Audio & Video go in hand in hand to create an immersive experience. From Home Cinemas to Outdoor Living Spaces music and crisp displays create the perfect entertainment solution.
Home Cinemas
We create experiences, and our cinemas are just that. Utilizing Dolby Atmos Surround Sound, you'll hear the footsteps behind and feel the rumbles. Paired with a large crisp display our Home Cinema solutions create an experience like no other.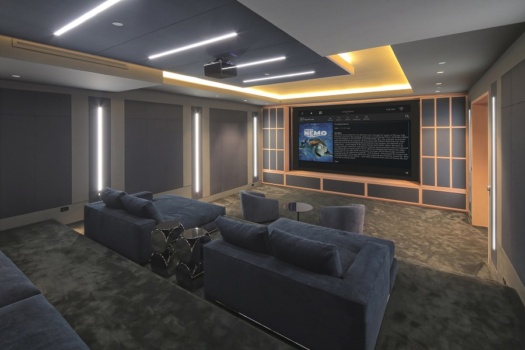 Distributed Audio
Frank Sinatra in the kitchen while Mom's cooking, and AC/DC in the garage while Dad's working? With distributed audio, you can have multiple streams of music playing throughout the house. Pair all the speakers together in the house for a party or have certain speakers turned off while others are playing different volumes.
Distributed Video
Multiples TVs, Apple Boxes, Rokus, and PVRs? Our distributed video solutions simplify and centralize all your media so you can watch any show on any 1 TV or all TVs throughout your house. Paired with our smart remote, Netflix, Sports, or your favorites are just a click away.